A Plaque For A Special Friend, Preacher And Marine
We get email every day from customers asking various questions, looking for models or just asking for help.  We always do our best to answer them as fast as we can in a manner that will translate easily over the internet.  Often we have no idea if our answer has helped or not but in some cases, we get to actually follow along with the project to its finish.  This is one of those special cases and we wanted to share it with you.
Damir Forstinger's original question...
"I have a question regarding 3D model of the title: MARINE CORPS. EMBLEM Model Number - 50092
- is the model "baked" or there is a way to modify individual components of the model (like changing globe to be more round without changing rest of the model?" 
The answer was easy...  
"Sorry, they are baked so there is no easy way to edit the models.
If you have Aspire you could do a bit of work and get it more to your liking."
Well, Damir just happened to have Aspire and once he filled me in on what he was doing, I couldn't help but give him a hand.  Knowing the edit was a simple one I jumped right on creating a short video showing him how to do it.  The rest of this post is all written in his words... and it's pretty inspiring!
"Main reason why I am asking for all this: My dear friend and pastor Gary was Marine Dill Sergeant and Law Enforcement agent years ago, and I was hoping to make him 3D emblem on my homemade CNC."
"I met my wife Emily back in 2006-2007 while both working on Holland America Line (she as a lead singer, and me as an engineer officer). Two years later we plan our wedding in Golden Valley - North Carolina (amazing place between Ashville and Charlotte). We came from the ship few weeks before wedding into Emily's parent's house (Wayne and Gail Vandyke). During our time before the wedding, preacher Gary Smith and his lovely wife Donna invited us for lunch in order to welcome and to get to know us. At that time neither Emily or I knew Gary, however, his great and positive attitude, and amazing love, and a positive and warm message left the great impact on our lives."
"Preacher Gary has been diagnosed with Parkinson disease, several years before we met. His positive attitude never stopped him from sharing Gospel and great News - even in the hardest times, he would joke, that he was sent to the hospital to help others although he was the patient needing assistance, or that he needs earphones so that people thinks he is listening to some "interesting" music and "dancing" on it..."
"Unfortunately, the disease is taking more and more dominion over his motions. In last several years, he requested to be dismissed from preacher's position since he lost an ability to use his full voice. He is fully relying on his amazing wife to do most of the stuff - he is periodically visiting local Church (where he used to preach) if his health permits."
"Preacher Gary's words and messages, and overall positivity in hardest times made a great impact on me. He was always a friend, to help, to stop everything that he was doing or passing through in order to assist others."
"I learn that he was in Marines, and gained a title of Master Sergent while serving - and as a small gift for such a great heart, I wanted to build something "special" for him. Todd, you, open the door of my imagination, and your great service and help when I was stuck helped in making this unique gift. I saw lots of different emblem versions, different settings and so on, but I wanted to do something more personal...and there you go."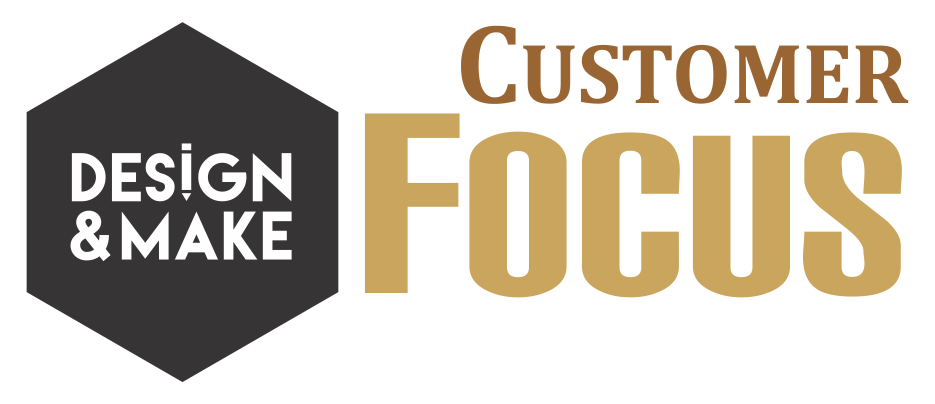 Thank you, Damir, for taking the time to share your story and project with us!
For more Customer Focus posts click here!